Dedicated to the Ones They Love:
Liner Notes from M&P Albums
(Page 1)

Below are liner notes, photos, and cover art for the albums If You Can Believe Your Eyes and Ears and The Mamas and the Papas. Of interest is the history of the group as portrayed under If You Can Believe... and the lyrical prose under Mamas and Papas.
---
If You Can Believe Your Eyes and Ears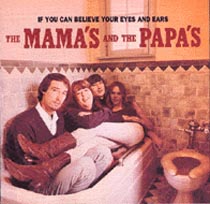 To say The Mamas and The Papas defy vocal and visual desription has to be the biggest understatement of the year and, for that matter, of the next year as well.
There are four of them, and they come in all shapes and sizes. They live in a nutty world of semi-existentialism, of cuckoo-clocks and antique lampshades, of beat-up old cars and Indian boots, of longish hair of folk-singers and not-so-folk singers, of Lou Adlers and Lovin' Spoonfuls, and primarily of Mamas and Papas, which in point of fact they are not.
John is the acknowledged leader, a tall thin, guant person who
takes everything very seriously and would probably perpetrate a rather bewildered executive image were it not for his mildly dignified, but perennially poverty-stricken appearance. He has played and sung his way around Greenwich Village and other significant musical areas with and without his three partners. He has an unusually creative mind which has been evident on the many songs he has written, several of which are featured in this album.
His fellow Papa is Denny, an insolently handsome young Canadian, who is noncomformist in that he orginally entered our offices clean-shaven, but wearing black leather, and has since take to wearing expensive sports clothes, only with a beard. His philosphies conform to the standard folk dreams in many ways, the main difference being that they are neither idealistic nor illogical. If we were talking in terms of sex-symbols and full-page color pin-ups and potential Marlon Brandos and John Lennons, we would select Denny to play the role. But we're not. So we won't.
It would be hard to say which of the two Mamas is the more striking. Michelle is certainly the more mysterious of the two. She is a lissome, blond, vision-with-a-voice who doesn't say very much, but just looks at you waif-like or what-ever-adjective-you-care-to-dream-up-like. She was once a model, and in her own way is still a model. And you haven't seen anything until you have seen her smile.
To end up with, there is Cass. You couldn't really end up with anything else. She collects antiques, talks freely about art and Bob Dylan, loves Whispering Paul McDowell, has travelled the land in satirical revues, wears cute little gold-rimmed glasses, and like the others lives for today, buddy, 'cos tomorrow may never happen. She is large and lovely, benevolent and broadminded, cynical and maybe sinful...who knows? Ask her.
The Mamas and The Papas are all descendants of Traditonal Authentic Folk Groups. One was in the Big Three, which for a long time ruled the folk scene in New York. Another was in the Halifax Three. A third or perhaps it was a fourth were in a very big group called The Journeymen.
They have travelled all over the States in their various capacities, and they recently returned from a trip to the Virgin Islands. Here they spent their time as one should spend one's time if one is a Mama or a Papa. Cass became a waitress for a short while and finally joined the others who had set up camp in the foliage, and were passing the time lounging around on the beach enlightening the natives to American pop culture. When the governor of the islands decided that they were not contributing too much to the
everyday problems of running an island, he suggested that they move on to conquer fresh pastures and this they are doing.
Their first record, CALIFORNIA DREAMIN', waxed prosperous on the bullet-riddled charts. Their highly unusual contrapuntal harmonies which is flannel for different vocal lines sung on top of each other plus John's unique vocal arrangements, plus the unusal approach of the whole bunch, provided a healthy filling for a gap on the musical landscape which had remained void even in these enlightened days.
Some of the songs in this album are new; others will be familiar. All are good. They become great when perfored by The Mamas and The Papas.
Denny's poignant lead vocal on MONDAY, MONDAY transforms a clever song of many intricacies to a work of beauty which becomes disarmingly simple. The bawdy, vaudeville analysis which Cass inflicts upon I CALL YOUR NAME projects the Beatles song in an entirely new light. John and Paul, one feels, would approve. To describe the gentle harmony obtained by Michelle and Cass on the extraordinary GOT A FEELING as "soft and silky" would not only be inadequate but also slightly inaccurate. "Feathery" would be a better word. And on the swinging swaying YOU BABY, you have that old "Good Time Music" feel as if it was born to be felt.
In short, The Mamas and The Papas emerge as one of the more stimulating groups of this era. They experiment, they create; they construct; and most of all they communicate.
A liner can only stand so many superlatives and hyperbolies without becoming trite. This one has already utilized more than its fair share. It only remains for you to extract the record carefully from the sleeve, play it and then see if you believe what you have just read. And if you can believe your eyes and your ears, the you're not only going to believe this album---you're going to be saving your nickels for the next one.
---Andy Wickham
SIDE ONE
MONDAY, MONDAY
(John Phillips) Trousdale Music BMI Time 3:03
STRAIGHT SHOOTER
(John Phillips) Trousdale Music BMI Time 2:55
GOT A FEELIN'
(Doherty & Phillips) Trousdale Music BMI Time 2:44
I CALL YOUR NAME
(Lennon & McCartney) Maclen Music BMI Time 2:32
DO YOU WANNA DANCE
(B. Freeman) Clockus Music BMI Time 2:58
GO WHERE YOU WANNA GO
(John Phillips) Trousdale Music BMI Time 2:32

SIDE TWO

CALIFORNIA DREAMIN'
(J. & M. Phillips) Trousdale Music BMI Time 2:32
SPANISH HARLEM
(J. Leiber/ P. Spector) Progressive Music
BMI Time 3:22
SOMEBODY GROOVY
(John Phillips) Trousdale Music BMI Time 3:06
HEY GIRL
(J. & M. Phillips) Trousdale Music BMI Time 3:10
YOU BABY
(P. F. Sloan & Steve Barri) Trousdale Music BMI Time 2:21
IN CROWD
(Billy Page) American Music BMI Time 3:10

Producer: LOU ADLER
Engineer: Bones Howe
Photos: Guy Webster
Musicians Include: P. F. Sloan, Hal Blaine,
Larry Knechtel, Joe Osborn
Electric violin: Peter Pilafian

Back to Albums List
---
The Mamas and the Papas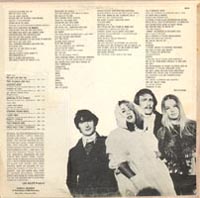 DUCK-EGG BLUE WAS THE SKY
AND THE TREES FLARED
TAIL IN LAUREL CANYON:
OUT SIDE WAS THE HEAVENLY FUNK-BRIDGE
SMILING IN THE SUNSHINE
SPRAWLING IN THE GRASS
SNIFFING THE BUTTERCUPS WITH TENDRIL NOSTRILS,
AND SOFTLY SAVOURING LES NUAGES;
LONG BLONDE HAIR AND MINI-MINI-SKIRTS
PATTERNED HIDE BOOTS AND SHABBY DENIM
UNSHAVEN CHINS AND UNSPRAYED HAIR
GOO-GOO EGGS AND CHUBBY THIGHS
AND DISTANT MEMORIES OF THE OCEAN AT MONTEREY.
AND INSIDE WAS PAPA JOHN,
TALL, THIN AND PERPLEXED LIKE A RAG DOLL,
WITH MAMA CASS
LARGE AS LIFE AND TWICE AS NICE,
AND MAMA MICHELLE,
WHO IS BLONDE AND BEAUTIFUL
AND ANGELIC WHEN SHE WANTS TO BE.
INSIDE WAS THE STUDIO,
COLD AND CLINICAL, WITH WALLS OF WHITE
AND HALLS OF YELLOW
AND A BROKEN COFFEE MACHINE.
CRASH ON, SAID MAMA CASS
SCREAM ON, SAID PAPA DENNY
SING ON, SAID MAMA MICHELLE
AND WE ALL FALL DOWN SAID, PAPA JOHN
WHICH MIGHT HAVE BEEN THE TITLE
BUT WASN'T
THEY WERE MAKING RECORDS AND IT ISN'T EASY
TO PLACE FEELINGS AND DREAMS
SOFT AND POETIC
ON HARD BLACK SHELLAC
SOLID AND SALEABLE
AND YOU SHOULDN'T SELL EMOTIONS
UNLESS THEY'RE HONEST.
HONEST PEOPLE DON'T BOLT DOORS
BUT THEY DID
AND THEY'RE HONEST PEOPLE
THEIR DOOR WAS BARRED, BOLTED AND RAMPARTED
TO KEEP OUT THE BAD VIBRATIONS OF COURSE;
AND BEYOND THEIR DOOR WAS A MORASS OF
STALE HAMBURGERS
CROWN ROYAL
ELECTRIC FIDDLES
TAPES
WIRES
KNOBS
EARPHONES
BONES
ASPIRINS
DOG-ENDS
AND LOU ADLER.
NOBODY OUTSIDE KNEW WHAT WAS HAPPENING
BECAUSE NO BODY OUTSIDE WAS ABLE TO GET INSIDE.
PAPA JOHN, MUMBLING AND STUMBLING LIKE A
PALM TREE IN A THUNDERSTORM,
WAS HEARD TO SHOUT SOMETHING ABOUT
"A CLOSED MIND"
WHATEVER THAT IS,
AND THE BILLING AND COOING OF MAMA CASS
SPASMODICALLY WAFTED OUT ONTO THE CONCRETE DESERT CALLED SUNSET BOULEVARD
ON WHICH THE PULCHRITUDE OF THE SETTING SUN
IS SURELY WASTED.
MAMA MICHELLE SMILED GRACEFULLY
FROWNED ELEGANTLY
AND DULY RECEIVED THE APPROVAL SHE SOLICITED,
FOR WHO COULD NOT APPROVE OF ONE SO LONG OF LEG.
SURE OF SMILE, BLUE OF EYE AND BLONDE OF HAIR?
PAPA DENNY WAS EATING CHEESE-PUFFS
AND SAYING NOTHING
AND THE WHOLE THING SWIRLED AND SWAM

LIKE A BRAKHAGE MOVIE.
EVERY DAY OR MONTH OR HOWEVER LONG IT TOOK,
LOU ADLER WOULD EMERGE, BEARDED AND SUNKEN-EYED,
CLUTCHING A SHINY BLACK DEMONSTRATION RECORD,
HAILED ON ALL SIDES BY ENTHUSIASTIC CATERWAULING
SUCH AS WAS NEVER HEARD AT CHAVEZ RAVINE,
AND JUBILANT CRIES IN UNISON OF:
"THE NEW SINGLE?"
"UNNNH!" HE GRUNTED AS HE ALWAYS DOES
WITH A RUB OF THE EYES
AND A STROKING OF THE SIX WEEKS GROWTH
WHICH WAS BLACK AND SINSTER.
AND ON THE TWELFTH DAY
OR WEEK
OR MONTH
IT BECAME OBVIOUS TO EVERYONE CONCERNED
AND EVEN TO THOSE WHO WEREN'T
THAT IT WOULD BE IMPRACTICAL
OR MAGNANIMOUS
OR BOTH
TO RELEASE TWELVE THINGS SIMULTANEOUSLY
AND SO THE PHONE WIRES CRACKLED TO NEW YORK
AND BACK
AND AN ABUNDANCE OF MEMOS FLUTTERED ONTO AN
ABUNDANCE OF POLISHED MAHOGANY DESKS,
AND WHILE MAMA CASS WAS BEING PANEGYRIZED
BY MORT SAHL ON HIS LOCAL TELEVISION SHOW
AND EVERYBODY ELSE WAS CONGRATULATING
THEMSELVES,
THE LOGICAL ALTERNATIVE WAS ADOPTED.
HERE ARE TWELVE THINGS
ALL ON ONE RECORD
THANKS BE TO GOD.

ANDY WICKHAM.
SIDE ONE
NO SALT ON HER TAIL
J. Phillips Pub. by Trousdale Music Inc BMI 2:35
TRIP STUMBLE AND FALL
J. Phillips-M. Gilliam
DANCING BEAR
J. Phillips Pub. by Trousdale Music Inc BMI 4:08
WORDS OF LOVE
J. Phillips Pub. by Trousdale Music Inc BMI 2:13
MY HEART STOOD STILL
Rodgers & Hart
Laurence Harms Inc...ASCAP 1:43
DANCING IN THE STREET
Stevenson & Gaye Pub. Jobete Music...BMI 3:00

SIDE TWO
I SAW HER AGAIN LAST NIGHT
J. Phillips-D. Doherty
Pub. by Trousdale Music Inc... BMI 2:50
STRANGE YOUNG GIRLS
J. Phillips Pub. by Trousdale Music Inc BMI 2:45
I CAN'T WAIT
J. Phillips Pub. by Trousdale Music Inc BMI 2:40
EVEN IF I COULD
J. Phillips Pub. by Trousdale Music Inc BMI 2:40
THAT KIND OF GIRL
J. Phillips Pub. by Trousdale Music Inc BMI 2:20
ONCE WAS A TIME I THOUGHT
J. Phillips Pub. by Trousdale Music Inc BMI 0:58

Musical sounds were made by Hal Blaines drums - Larry Knectels organ and piano - Joe Osborns bass - The guitar sounds by the Doctor Eric Hord, Tommy Tedesco, and John Phillips, the acknowledged leader. Among the strange instruments used---one was the electric violin of Peter Palafain. The fantastic engineer on this album was Bones Howe. Henry Lewy more than helped electronically. Both were assisted by Bowen David. The cover and liner photos were of course by Guy Webster. Taken at 5:00 am in the desert. The art work was done by George Whiteman. Arrangements are done by head (impromptu) on the session with contributions by everyone---
Lou Adler producer

Dunhill Records
(A Subsidiary of ABC Records)
New York/Beverly Hills

Back to Album List
---
On to page two...